Cornish captain finds a surprising Christmas romance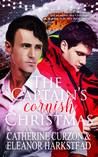 The Captain's Cornish Christmas by Catherine Curzon & Eleanor Harkstead
My rating: 3.5 of 5 stars
These two authors work perfectly together to produce historical romance with a twist.
This one, a novella in the Captain's series, is a contemporary romance but one which still manages to hold that timeless quality within it.
It's super sweet, a little bit sexy and quite a lot funny and reminded me a lot of the Jeeves & Wooster tongue firmly rooted in cheek joie de vivre.
#ARC kindly received from the authors in return for an honest and unbiased review.