Review Round Up – Why series from Colette Davison
Why I Left You by Colette Davison
My rating: 3 of 5 stars
Where to start with this one. It's a powerful exploration of the pain of depression in a young man and it's also a romance between two young men who've been in love since they were teenagers and who were separated by one desperate act and the consequences of it.
I don't think I "enjoyed" it in the way I would usually enjoy a young adult romance, there's too much pain and suffering I think to truly let go of the aspects of dealing with a mental illness.
There's also, for me anyway, a definite feeling of realism over how neither man wants to deal with the serious conversations they're owed from each other over what happened four years earlier.
And, also, the incident which caused Jamie's initial breakdown – while perfectly possible and believable in its own right – didn't work for me and I don't have a logical explanation for why. I just read it and felt it was a bit "plot pointy" as there'd been nothing even remotely clued in throughout the rest of the narrative
Still, the writing is exemplary and care is taken to never diminish the effects of depression and how it alters people's perceptions of themselves and others.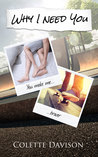 Why I Need You by Colette Davison
My rating: 3.5 of 5 stars
I preferred this one over book one because, while it still dealt with serious issues and there was still a ginormous lack of communication, these two didn't mask over things with sex.
Both Noah and Fin are dealing with grief and both have huge hang ups over what they think the other person is feeling or likely to do if they reveal the truth.
Their fears were completely believable and quite realistic, but I just got a bit fed up by the push/pull over each of them opening up about what was going on inside their heads.
The ending, with characters of just 24 and 21, also felt a little unlikely but then again, when you know you've met The One, why wait.
Why I Trust You by Colette Davison
My rating: 4 of 5 stars
Definitely my favourites in the series and the one with the least amount of angst and most focus on just the development of a loving relationship.
I liked that these guys talked to each other, there was no miscommunication or misunderstanding between Ryan and Martin. Their obstacles were practical and legal ones and it worked well.
Ryan's fears over having to rely on someone else were perfectly understandable, as were Martin's over people being with him for his money.
Together they were seriously sweet and a lot of fun to read, as well as being crazy sexy. Overall I've enjoyed this series from an author New to me and – as a Leeds born girl – it's always great to see stories set in and around my part of the world.
#ARCs kindly received from the author in return for an honest and unbiased review.